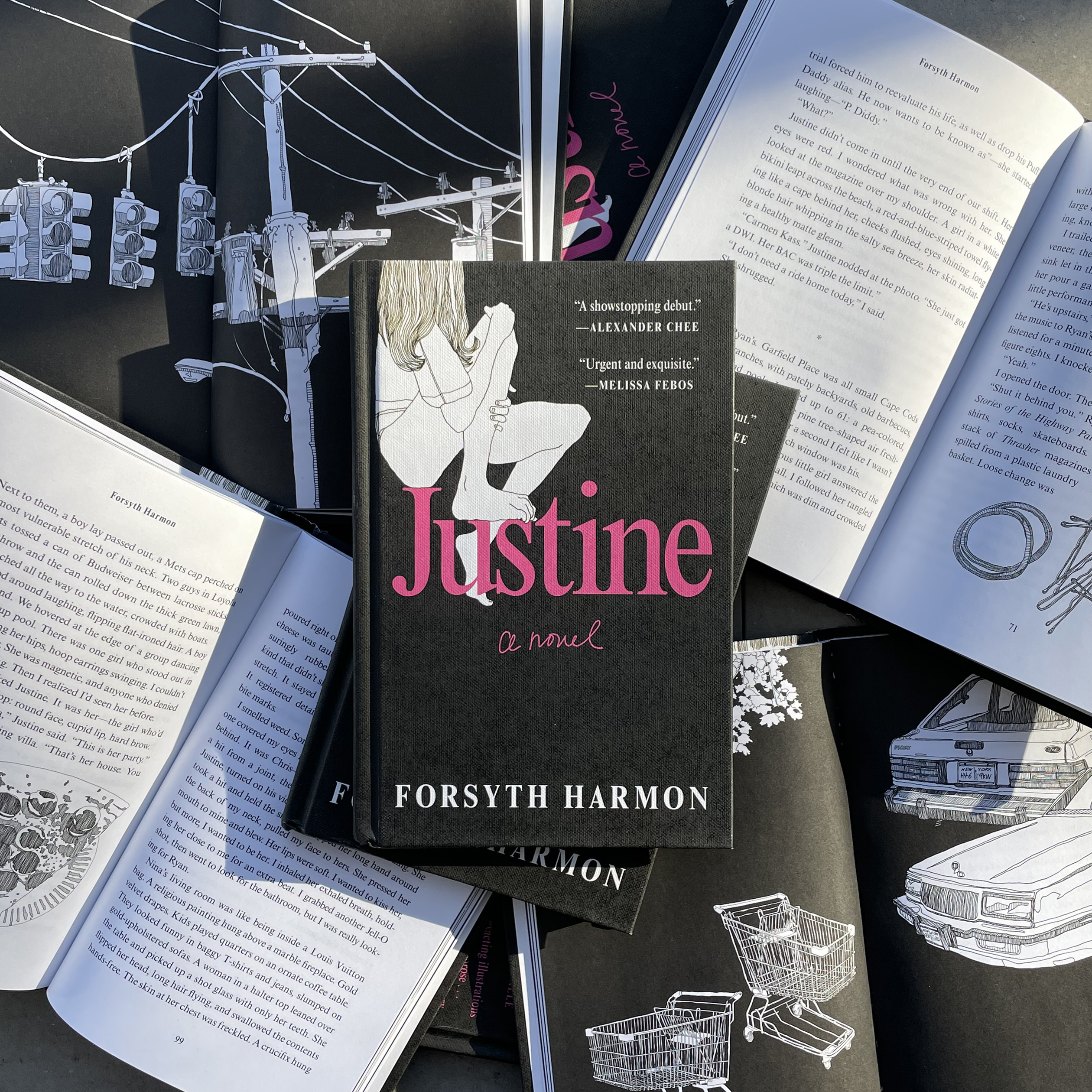 Justine
by Forsyth Harmon
Summer 1999. Long Island, New York. Bored, restless, and lonely, Ali never expected her life would change as dramatically as it did the day she walked into the local Stop & Shop. But she's never met anyone like Justine, the store's cashier. Justine is so tall and thin she looks almost two-dimensional, and there's a dazzling mischief in her wide smile.
Ali applies for a job on the spot, securing a place for herself in Justine's glittering vicinity. Justine takes Ali under her wing. Ali learns how best to bag groceries, what foods to eat (and not to eat), how to shoplift, who to admire, and who she can become outside of her cold home, where her inattentive grandmother hardly notices the changes in her. Ali becomes more and more fixated on Justine, reshaping herself in her new idol's image, leading to a series of events that spiral from superficial to seismic.
Coming from Tin House March 2nd.
Preorder here ︎︎︎


"Crackling with the swift and satisfying fizz of Pop Rocks and Diet Coke...acutely captures that time in one's life when imitation feels like the sincerest form of freedom."
—O, The Oprah Magazine

"A portrait of teenage infatuation between girls in 1990s Long Island...captured with unsparing prose and evocative black and white illustrations by the author."
—Glamour

"This is Harmon's debut novel, and she also provides illustrations; she's done an impeccable job re-creating a very particular moment in time, exploring what it felt like to be a teenage girl when the beauty ideal for women grew to maddening heights."
—Kirkus Reviews

"This is a beautifully illustrated and unique text–both supplied by Harmon–that explores the tender, excruciating and exhilarating experiences of girlhood, love, obsession and coming of age."
—Ms. Magazine

"Justine is a quiet thrill ride you won't want to miss."
—Bustle

"Punctuated by the spare and elegant line drawings....Harmon depicts this heady time of life with an exquisite tenderness, a clarity that can only come from distance, and a sensitivity to this most formative part of our lives, when both nothing and everything seem possible all at once."
—Refinery29

"The author's clean, thin-lined illustrations add period detail to the prose's cool lyricism...Harmon traces the nuances of a teenage female friendship's fraught dynamics with clinical precision."
—Publishers Weekly

"Celebrated illustrator Forsyth Harmon makes her writing debut with Justine, a compact but powerful illustrated novel."
—BuzzFeed

"Powerful.... Harmon's minimalist drawings [open] up more paths to understanding than the text alone can provide."
—Electric Lit

"With no shortage of praise...the debut is a complicated and nuanced portrait of female adolescence"
—The Millions

"A nostalgic trip through the magazines, music, and end-of-the millennium pop culture provides the backdrop for a narrative focused on obsessions, latent desire, and growing up."
—Shondaland

"A showstopping debut."
—Alexander Chee

"Forsyth Harmon is an artist who understands the holy power of longing."
—Melissa Febos

"Like being in a crystalized, lucid dream."
—Makenna Good

"Devastatingly attuned to the longing, loathing, and eroticism that can run between two teenage girls."
—Hermione Hoby

"Nervy, exacting illustrations and effortless prose...with the clarity and mystery of a black opal."
—Catherine Lacey

"Adoring, insightful, and even a little frightening. It shook me, and it made me see.""
—Victor LaValle

"This is a brilliant re-imagining of the coming-of-age novel. I read Justine in one sitting, almost holding my breath."
—Sanaë Lemoine

"A delicious debut."
—Ling Ma

"Brilliant....the mix of text and art is so inventive in pushing toward new ways of questioning what image and text can reveal about each other."
—Idra Novey

"Pulsingly alive."
—Kristen Radtke

"I felt myself completely transported back to those 17-year-old feelings where a friend can both ignite and depress you and the dirtiest thing you've done has never made you feel more alive."
—Ariel Schrag